Welcome Jessica Krok, Ph.D. to the OSU Aging Studies Family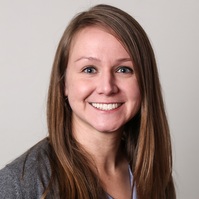 Dr. Krok joins Health and Rehabilitation Sciences Faculty


The Office of Geriatrics and Interprofessional Studies wish to congratulate Jessica Krok, Ph.D., who recently joined the
School of Health and Rehabilitation Sciences
as an Assistant Professor. Previously, she worked as
a Postdoctoral Research Fellow and Research Specialist for the Division of Population Sciences in the
Arthur G. James Comprehensive Cancer Center
. Dr. Krok received her M.A. in Gerontology in 2008 and her Ph.D. in Aging Studies in 2012 from the University of South Florida. Her research interests include cancer survivorship in diverse older adults, age differences in cancer treatment decision making, cancer health disparities, symptom management, and patient navigation.
Dr. Krok comes to us with her husband Rick. When she's not doing research or teaching, you may find her participating at local trivia night, running with her dog, Izzie, and volunteering for LifeCare Alliance.
Please join us in welcoming Dr. Krok to the Office of Geriatrics and Interprofessional Aging Studies Family!