Caregiver Study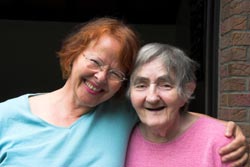 Do you help care for someone with dementia? Researchers at Ohio University are studying how serving as a caregiver for a patient or patients with dementia can affect the caregiver. In exchange for participating, you will receive free cognitive screening with feedback on your cognitive performance and a $20 Walmart gift card!

You May Be Eligible To Participate if:
You are over 50

You provide at least 5 hours of care per week to an individual with dementia; you do not need to live with this person.
You are able to read and write in English
Your participation will include answering questions about your physical and mental health, your general background, your experience as a caregiver, and your thoughts about your cognitive abilities. You will also complete a brief battery of cognitive tests, about which you will receive feedback at the end of the study.
For more information, contact:

Alex Woody
ww064211@ohio.edu
740-593-0910